A Fun Morning at the Calgary Stampede Parade
The chill morning air was welcome as we left our place in the country after the early July heat of the week. Not far down the road, we ran into our first traffic, a half dozen of our neighbor's calves had decided "the grass was greener on the other side" and escaped from their mothers, who were now bawling for their offending offspring's return. A quick stop and we were back on the road, heading to Calgary for the annual kick-off of the Greatest Outdoor Show on Earth, the Calgary Stampede Parade.
I must thank the Parade Committee for inviting me to join them in their social media area. It made for an amazing morning. Arriving early, I snagged myself a spot under a shady tree in defense of the 30C + temperatures that were forecast for the day. (About 85-90F for my American friends.) There's one thing you can be sure of, the Stampede takes care of their volunteers and I wasn't disappointed this morning. Fresh muffins from an early morning Timmy's run plus, coffee, tea, hot chocolate, juice and of course water. And the volunteer hosts were terrific, making sure I had everything I needed, including knowing where I could charge my devices should they run out of juice. A world class organization indeed.
I had a shady front row seat for the parade
Many folks arrive the night before the parade to stake out prime spots on the sidewalks; marking out their spots for the morning. These were the true early birds but once 7:30 am rolled around (that's when the streets are closed) there were plenty more families lined up to fill the cross streets and grab an up-front view of the parade. Sitting on lawn chairs, blankets and bleachers, these folks were in for a treat. If you've never seen a parade of this magnitude up close and personal you are missing something (and should add a trip to Calgary for Stampede to your bucket list if it isn't there already!)
Blankets, chairs, and strollers for the best seats in the house
There is something so intoxicatingly fun about the entire experience you have to do it at least once in your lifetime. Of course, many of us who are native Calgarians may have experienced it a few more times than that (25+) but we continue to come back. Braving bleary eyes, cranky children and the real possibility that there isn't enough coffee in the world to keep us all awake before our first site of the Prelude Parade (remember to bring coins for the charity collection) where singers and dancers, from various groups around the city, entertained us, like a warm-up act before the main event.
Prelude Parade entertainment
The 2017 edition of the parade featured each all of the Treaty 7 Chiefs as Parade Marshalls. Such an appropriate choice considering we are celebrating the 150th birthday of our nation. (FYI the original Treaty 7 document is on display at Fort Calgary this summer, a great opportunity to see this important document from Canada's history.)
One thing that holds our Calgary Stampede Parade out from other large parades is the number of horses that participate each year. I have to admit they have been a big favorite of mine since 1963, the first year my parents took me to the parade. I was almost two and, according to my mother, decided I wanted to be a cowboy and "ride the broncos." This year's edition boasted hundreds of the majestic beasts, including a 22-horse-hitch. I've seen a 20-mule-team before but this was amazing!. And of course, the Budweiser Clydesdales are always a hit with the crowds. Yes, our western heritage is on full display at this time of the year.
Wells Fargo Stagecoach all ready for Canada 150
There were some amazing entries this year to help celebrate Canada's sesquicentennial including the entry from the Royal Tyrrell Museum of Palaeontology that won the President's Trophy. (The Tyrrell is an amazing place and definitely worth the drive from Calgary, especially if your kids are into dinosaurs.) This was only one of the many fantastic entries in this year's parade that included annual favorites like the one celebrating Canada's birthday from Calgary's Ahmadiyya Muslim group. They put a ton of work into their entry every year but I think this year was one of their best!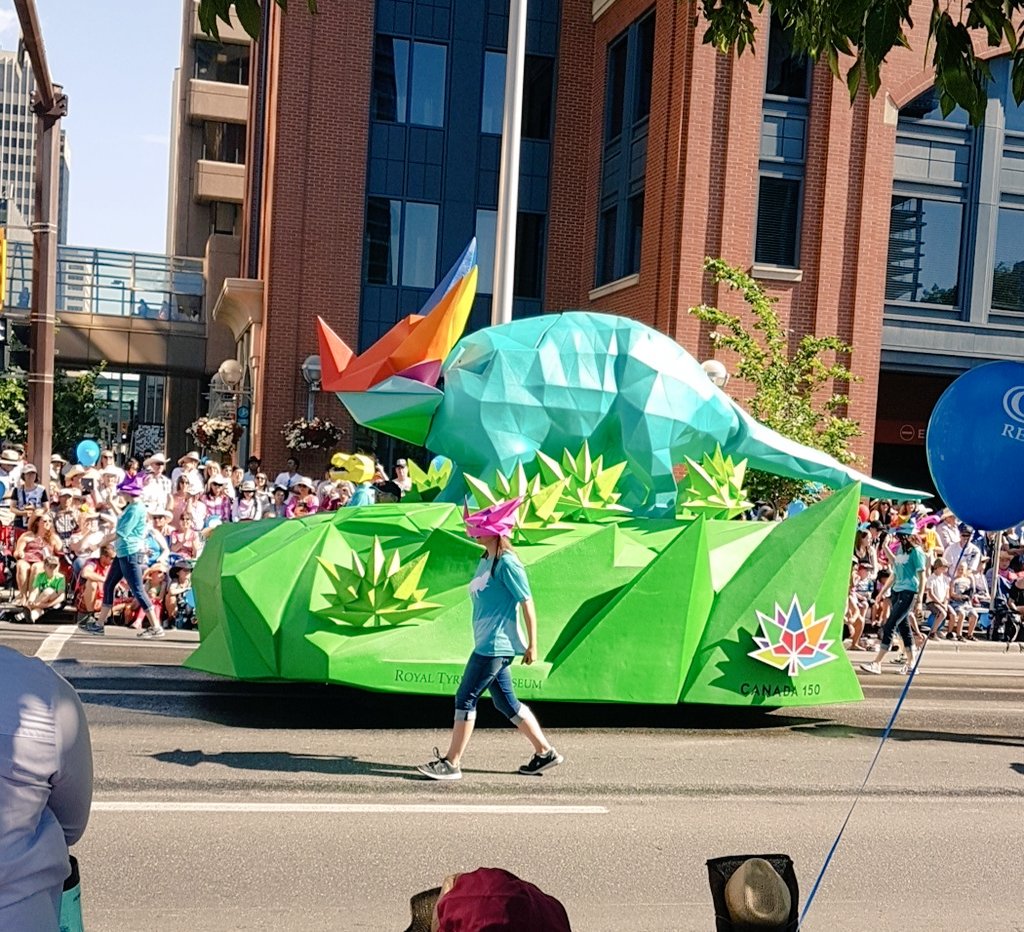 President's Trophy Winner from the Royal Tyrrell Museum of Paleontology
Along with the floats, horses, hitches, and stagecoaches, I can't forget to mention the Shriners with their mini planes and cars or the music that keeps the entire parade on time, the marching bands. These groups put in an amazing number of hours of practice to get ready for our show (not to mention the hours of fundraising and caring for uniforms – yes, I was a band mom and speak from experience.)


One of many marching bands that keep us entertained during the parade
The 2017 edition of the Calgary Stampede Parade is in the books and I'm sure it won't be long until the work begins to make next year's event even bigger and better. If you have never been to the parade or haven't been for a while, I highly recommend you mark July 6, 201, on your calendar!